Current designs of towns are based primarily on the needs of cars and what people make, sell or buy.

Livability is secondary.


This new, Anasazi-Zellmer Paradigm, has the flexibility to meet every environmental and sustainability issue. But meeting the needs of the ultimate users is its purpose.

A new paradigm, this town concept is designed primarily for people. Cars have a convenient but separate place. Its permanent infrastructure is planned and financed for the long term, which makes housing affordable and encourages planning for higher quality long-term investments. It provides for comprehensive inherently sustainable livability, technical systems and farmland. No other current housing or town concept can satisfy all these objectives. This may be the first comprehensive attempt to invent a town for today.



On first impression, without any depth of understanding, it may appear impractical or futuristic. However, while different, it uses standard construction, more fully meets people's needs and can be built now. This research grows out of 40 years of designing, building, master planning, cost control, and real estate development experience. During that time social, historic, environmental and technical systems research was conducted specifically for this objective.

This is the first entirely new design for a comprehensive town concept in over 2000 years. Existing town concepts will not be able to meet future demands of efficiency, sustainability and people. This new concept is necessary. Please open the video address below to get a quick understanding of its remarkable basic features:


http://www.youtube.com/watch?v=_xqAOXulLC4


Title: A-Z Paradigm --World's First Comprehensive New Town.


The BOOK, A Town Primarily For People describes the desirable future and historic features of this entirely new type of town; it satisfies everyone's objectives within a format that allows the highest dreams and expertise of the environmentalist, landowner and developer to be combined. With drawings and text the book describes how it can be done, and how it reduces impacts on water, air, transportation and farmland; even within existing historic downtowns. The town actually functions in harmony with nature, like a living organism.

Features of a typical current General Plan are compared with this concept in the last paragraphs below. For several pages of general information and images, the link to the original website is: http://www.sprawlalternatives.com

For general architecture designs by L.Gene Zellmer, AIA please visit the website: http://www.genezellmer.com

YOU ARE INVITED to be a contributing author for ANOTHER BOOK. Anyone with ideas that relate to or might function as an integral part of this town concept is encourage to submit proposals. Each author would be identified and the lengths of the chapters may vary depending on the contribution. All ideas or comments are encouraged. Please indicate your particular interest by sending an email to book@sprawlsolutions.com.

The HURRICANE-PROOF potential of this concept makes it suitable for replacement of housing and towns along the GULF COAST and in NEW ORLEANS. The lower levels are for parking or other easily moved uses. All the shops and housing are above flood levels.

Below the following images is an outline of its Hurricane-Proof potential and its possible application for new housing in New Orleans and also in Iraq.



The first image above is an aerial view of a town based on this new concept. What appear as hillsides actually are trees in the backyard of each home. This is not a hill, the inside is hollow. The top is open below the X-structures along the ridge. Running continuously inside is Main Street. The front porch of each home overlooks this street.

The image above is a typical backyard of an individual home. Being totally private it can be any design. Views overlooking the countryside from every yard are like being on your own hillside in the country.

Below the book cover is a view of Main Street. It can be any design based on needs and the local neighborhood culture. The entire extened neighborhood of 96 home sites and its section of Main Street is visable from each front porch. They act together as a visual and functional unit.


NEW POTENTIALS OF THIS CONCEPT
For the first time in history we have the experience and knowledge to build towns that can efficiently do more than any previous concepts. With this concept human habitats can integrate with nature as efficiently as a daisy or as habitats of other supposedly less intelligent life forms.
While primarily for the physical and social needs of people, it can meet the objectives of the most ardent environmentalists and profit-oriented developers; a TURNING POINT all of us can make together.
As other examples of its potential, outlined below are main features for:
GULF COAST APPLICATION:
MANUFACTURED HOMES can be built immediately and located where needed.

Concurrently a PERMANENT 3-D INFRASTRUCTURE is built; when complete, the
SAME manufactured homes are inserted in long-term Home-Sites.
AFFORDABLE, – each Home-Site loft space allows individual flexibility to meet changing budgets and needs, a single-family home or a 4-plex and sweat equity.

Potentially HURRICANE-PROOF, plus flood level is parking, open space or easily moved uses.

CONTINUAL USE for hundreds of years is more efficient than any recycling.

BEST FINANCING, -bonds, 70% of total home cost is permanent construction.

COMPARABLE TOTAL COST, typical cost of streets, floors, sidewalls, roofs, etc. is enough to build the permanent infrastructure.

ENERGY use is one-fourth of current housing spreading across the land.

Adds MINIMUM to global warming, ADAPTABLE for an ice age.
IRAQ APPLICATION:
Appropriate features from list above, plus:
As the future HANGING GARDENS OF BABYLON designed with today's most advanced technology.

A MONUMENT TO THE PEOPLE, -home-sites built just for them.

FREEDOM to build homes with traditional methods, easily changed over time.

ADAPTABLE to their climate.

A SYMBOL of our interest in a new future for the people.
BOOK: A TOWN PRIMARILY FOR PEOPLE, The Five-Hundred Year Plan
The BOOK is NOW AVAILABLE. It is 8"x10" and contains 230 pages with 150 images. The cost is $23.99 and $7.95 for shipping and handling. Shipping is reduced for 2 to 5 copies. For reduced prices on more than five books or for questions and comments please contact us by email: book@sprawlsolutions.com

To order one to five books click on this button: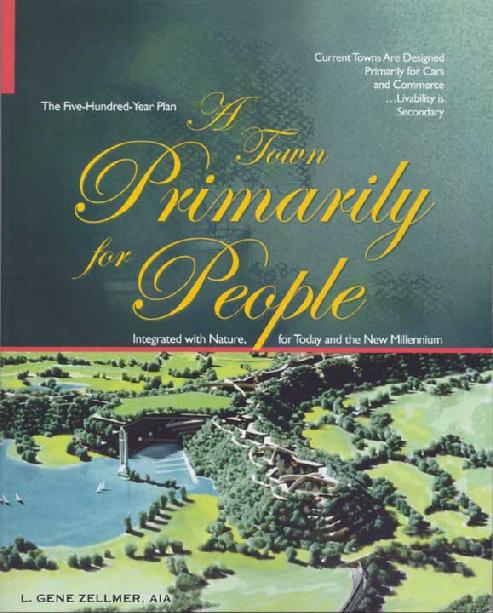 Front Cover
This New Concept Town Could Eliminate General Plan Conflicts?

Our current concepts for housing may never allow us to solve the conflicts between people's needs, agricultural and responsibility to the natural environment. After fighting over planning issues, spending much time and money, everyone is usually forced to accept less than satisfactory compromises. Over decades, it happens again and again.

Without better concepts, conflicts and impacts will only become worse as centuries pass.

There is an entirely New Concept Town (NCT) that may actually be able to satisfy everyone's objectives. Examples for comparison:

(1). The General Plan intends the rural 3500 acres northeast of the county seat for 62,000 people.
NCT can provide the same population but also; on the same land have 1700 acres for farming, plus 800 acres for natural and recreational open space.

(2). The General Plan allows 40-acre parcels in agricultural areas to have three homes, and farm buildings. Along with the roads, that could use 10% or more of the land.
On only 15% of the land (just 5% more), NCT provides the same number of homes as if 100% of the land was covered with General Plan type housing developments.
NCT uses the remaining land (85%) for some recreation, but mostly for farming as an integral part of NCT's sustainable self-contained water and waste recycling eco-system.

(3). NCT can turn less than desirable land into high quality farms, potentially adding farmland while still doubling the population.

(4). The General Plan cannot make new developments be compact enough for efficient local or regional transit. Most will still need to provide alignments, distances and spaces based on the needs of cars.
Every NCT home will be within a 5-minute walk of NCT's own self-supporting transit system. This transit systems convenience and efficiency makes for maximum use and minimum impact on existing surrounding areas or streets.

(5). Rather than typical backyards viewing fences and neighbor's houses, all NCT homes have private backyards overlooking hundreds of acres of open space, like being away on a hillside in the country.

(6). Rather than typical front rooms viewing houses, often empty streets and parked cars, all NCT homes have front rooms and porches overlooking an immediate neighborhood play area, neighbor's porches close enough to wave greetings, plus views of Main Street with shops, sidewalk cafes, parades, and no cars. Interesting activities encourage more front porch use, making for safer neighborhoods and a real feeling of community.

(7). NCT home's can be built to meet any owner's budget and needs. Each home could start as a one-room house for a young couple, grow to a complete four-bedroom house, empty nesters could retreat into a one-bedroom portion and rent the rest for retirement income. Total flexibility for all ages, future generations and extended families encourages wonderful neighborhoods and new approaches for affordability.

(8). NCT reduces all environmental impacts: water, energy and construction material use, -for centuries.

(9). NCTs fundamental principal is that towns are for people, everything is within a short walk. Cars have a convenient but separate place.
The absence of cars will improve livability for homes, neighborhoods and their special section of Main Street as well as it has for Italy's Venice or its Hill Towns, and our shopping malls with cars parked out-of-sight.

(10). NCT is based on the principal that continual long-term use is more efficient than recycling or reuse. NCT is designed so at least 75% of each home's initial cost is permanent, protected and near maintenance-free. Those durable elements of construction are paid for only once but designed to last hundreds of years. That will allow long-term low cost financing, another approach improving affordability.
……….
All this may sound unbelievable, futuristic, or simply impractical. Be assured, every element in this concept has been successfully done before. Spatial arrangements may be new, some only subtly changed, but the way people will use them is very old and basic. The structure is straightforward typical construction.

Long-term thinking can change the entire way we design and plan. Many of those great places in the world we love to visit are hundred's, many are over a thousand, years old. A lot of people would be without affordable housing if not for so many very old stone structures. General Plans for 25 or 50 years, -that's a very short time. Did anyone plan for Rome to be there a thousand years? Probably not, but it suggest even our less permanent towns will make some kind of a long-term mark.

NCT can easily be included as a special section of any new General Plan. It will eliminate car-oriented limitations, allowing a more imaginative future, and provide an alternative that could resolve typical General Plan conflicts.